NEWS / EVENT BLOG ITEMS - SCROLL DOWN TO VIEW ALL
9/10/2014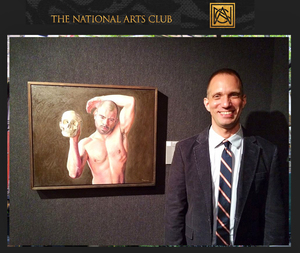 September 2014 - I have a painting featured in another group show at The National Arts Club on Gramercy Park again (the second show there this year)! This one is called "Meeting Mythology: An Eternal Source", curated by Robert Yahner. I am included among 4 Contemporary Artists in the show who have Mythological themes in their work (my painting "Mike With Skull" from 2011 can be seen as a re-telling of the Hades Myth). The rest of the art from this show is from the Club's impressive collection (there is even a Picasso Drawing of a Satyr - yep, I'm in a show with Picasso! LOL). The show runs til Sept 29th, 2014, and the National Arts Club is at 15 Gramercy Park South (a.k.a. West 20th St in between Park Ave & Irving Place. It's open to the public every Monday through Friday from 10AM-5PM and the show is in the lower level gallery. Come see it if you can! (Click the image to be linked to N.A.C.'s website & Gallery calendar).
---
July 2014
7/11/2014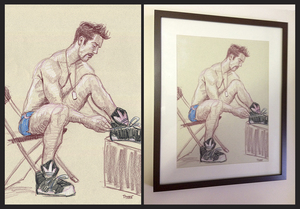 July 2014 - This is my donation to next week's Housing Works' Soho Thrift Shop's "Art for Action Gallery Night", organized by Scooter LaForge and Johnny Rozsa - a life drawing of Dan Paul putting on his sneakers :) The Event is Thursday, July 17th from 6-8PM at 130 Crosby Street just below Houston, and all work is for sale to benefit Housing Works. This is the piece, and a view of it in the brown frame I have it in - come by Thursday to see it, as well as all the other wonderful artists on display! Click the image to be linked to the Housing Works' site's listing of the Event
---
July 2014
7/3/2014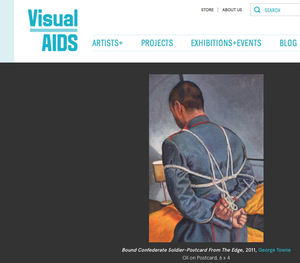 July 2014 - My 2011 painting "Bound Confederate Soldier" was just curated into a Visual AIDS online exhibition called "Secretly, Frequently Secretly, Frequently (Cowboy Drag)" by Canadian curator Anthony Easton! He chose a really fun selection of images from the VA Archives and wrote a great essay, click on the image to be linked to it :)
---
June 2014
6/9/2014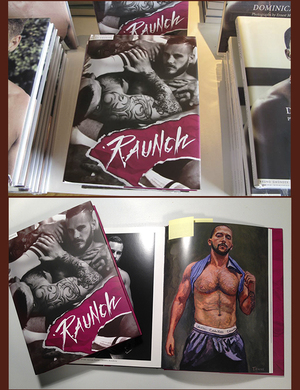 June 2014 - Very happy, my "contributor copy" of the new Hardcover Coffeetable Art Book compilation from Bruno Gmunder arrived this weekend, and it looks great !! It's called "Raunch" (initially I think it was going to be called "Scruff" but I assume there were problems since that name's taken, lol). It's a gorgeous book, full color with 160 pages, and a forward by the legendary artist Robert W Richards, and they reproduced four of my sexiest paintings to date. Thanks to Harvey Redding for encouraging me to submit, to Ronny Matthez for making it happen, and to the models in the artwork, Eric Rose van Doorne, Isauro Cairo and Ricardo Suarez. Also to Michael Mut and Leslie-Lohman Museum of Gay and Lesbian Art for letting me show the actual artwork in their galleries. You can purchase the book direct from the publisher here: http://www.brunogmuender.com/products/details/id/8672_Raunch/ , (or click the image to be linked to that page) - or on Amazon... and Barnes & Noble in Union Square said they can order it. Get your copy today! Lol
---
June 2014
6/5/2014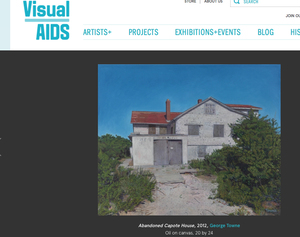 June 2014 - The wonderful artist/designer/curator Aaron Tilford used a quote ascribed to Tallulah Bankhead in a conversation to Bea Arthur in the 1950's as a springboard for his latest curatorial effort - a Visual AIDS 'Web Gallery" online exhibition called "Eyes, Lilacs & Spunk: Queer Aesthetic from Suggestion into Abstraction" - and he included my 2012 painting "Abandoned Capote House" among it's 18 images. Click the image to be linked to his beautiful essay and choices from the Visual AIDS Web Archive, which is where you can see my painting of that abandoned house in the Pines just before you hit the Meatrack (actually called the Carrington House, where it's told the owner let Truman Capote stay there in the 1950's and where it is rumored he wrote the novel "Breakfast at Tiffany's").