NEWS / EVENT BLOG ITEMS - SCROLL DOWN TO VIEW ALL
11/20/2013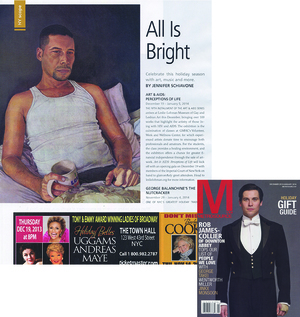 November 2013 - Nice to see that Metrosource Magazine has included a nice JPEG of my painting "Adriano with Coffee Mug" in the latest issue (Dec.'13-Jan.'14, page 64, with the Downton Abbey cover)... Which will be one of the four paintings of mine that will be in next month's GMHC Group Show at LeslieLohman Museum that opens December 19th. Thank you Metrosource !
November 2013
11/16/2013
November 2013 - Upcoming Group Exhibition participation... I will again be a part of the GMHC Artist's Exhibition at the LeslieLohman Museum of Gay and Lesbian Art! This year's theme will be "Art & AIDS: Perceptions of Life", and the show will open with a Reception on Thurs, Dec. 19, 2013 from 6-8PM, and will close on Sunday, January 5th, 2014. I am slated to exhibit four paintings... more to come as the info develops, and I will try to link you to additional info when it is up online.
August 2013
8/18/2013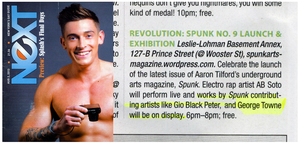 August 2013 - "Next Magazine" gave me & the Spunk Magazine Launch a Shout-out last week, WooHoo!
August 2013
8/1/2013
August 8&9th, 2013 - Great news - I am not only going to be in one, but two group shows at LeslieLohman Museum next week!
Opening Thurs. 8/8 - I will have a piece in the "Recent Acquisitions" show at the Main Museum Space at 26 Wooster St near Canal from 6-8PM (a collector, Earl Carlile, donated my 2002 painting of Congressman Barney Frank to the Permanent Collection!). This show will be on display until Sept. 8.
Then, Opening Friday, 8/9 - I will have two paintings at the Museum's "Prince St. Project Space" at 127-(BSMT) Prince St. near Wooster from 6-8PM at the Launch Party for the recent issue of "SPUNK" Magazine, (No. 9), of which I am a contributor! This show is only on display the two days following this Event from 12-6PM.

Click the Image to be linked to the Museum's Calendar info page about the Events, and visit http://spunkartsmagazine.wordpress.com/ for more info about the SPUNK Event (buy the issue from the site or at the party for $9. - limited edition of 400!)
July 2013
7/3/2013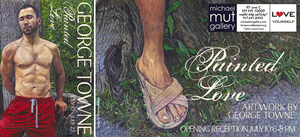 July 10th, 2013 - The Card / Invitation for my Solo show at Michael Mut Gallery is back from the Printers! Here is the Front & the Back, with Card Design by Klay-James Enos. Also, the Gallery now has the show listed on it's main page, click on the Image to be linked to the Michael Mut Gallery site! (And, if you're on Facebook, please look up the Gallery & "Like" the Gallery on Facebook, Thanks!)
And - don't forget, the Opening!! : "Painted Love: Artwork by George Towne" at Michael Mut Gallery, 97 Avenue C (near 7th St.), Opens July 10th, 2013 from 6-8PM, (and runs thru 7/27/13. Hrs. Wed-Fri 4-8PM, and Saturday 12-6PM).