NEWS / EVENT BLOG ITEMS - SCROLL DOWN TO VIEW ALL
1/20/2015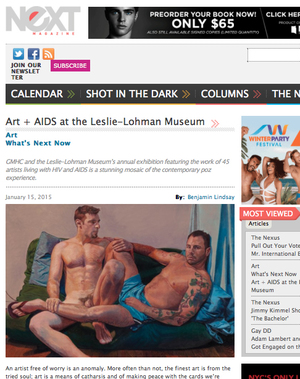 January 2015 - Always grateful to get a press mention for my artwork - my thanks goes out to Next Magazine for reproducing my Image "Rich and Seth" in relation to the GMHC "Art & AIDS: Amor y Pasion" show opening at the Leslie Lohman Museum of Gay & Lesbian Art this thurday night, 1/22/15 from 6-8pm! Click the Image to be linked to the Next Magazine site.
---
January 2015
1/18/2015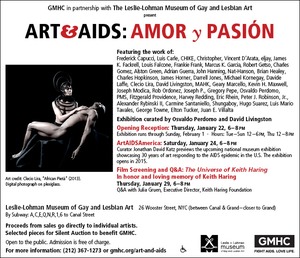 January 2015 - I'm in a big group show next week of HIV Positive Visual Artists from GMHC, to be held at the Leslie-Lohman Museum of Gay and Lesbian Art called "Art & AIDS: Amor y Pasion". I will be showing one painting and one life drawing. The opening reception is Thurs. Jan. 22nd from 6-8, and the show will be on display until Sunday, Feb. 1st, 2015. Additional Events during the show's run include a lecture/slideshow by Art Historian Jonathan David Katz on Sat. the 24th from 6-8 called "ArtAIDSAmerica", and there will be a screening of a documentary about Keith Haring (whose work will be in the show!) on Thurs, Jan. 29th from 6-8pm, both of which I think I will be attending as well. Click on the Image to be linked to GMHC's info on the show - and please come check it out if you can !!
---
January 2015
1/17/2015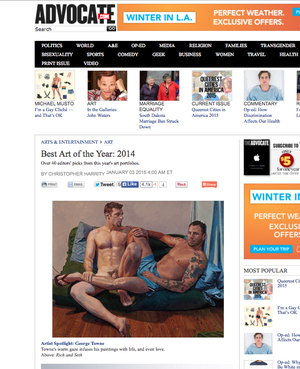 January 2015 - As it turns out, at the end of last month I was put into "The Advocate" Magazine's "Best Art of the Year: 2014" list - WooHoo! Such an amazing honor, especially from an important Magazine I have read, loved and even subscribed to for so long. It states that the finalists were chosen from over 40 Editor's picks of the year's art portfolios. This was able to happen because Here Media Editor Christopher Kit Harrity had seen my work on Social Media such as Facebook, and he had done a very nice online article about my paintings with a slideshow of 25 Images back in March 2014, and I'm very grateful. Click on the image to be taken to the Advocate's site and see this as well as the other finalists!
---
January 2015
1/16/2015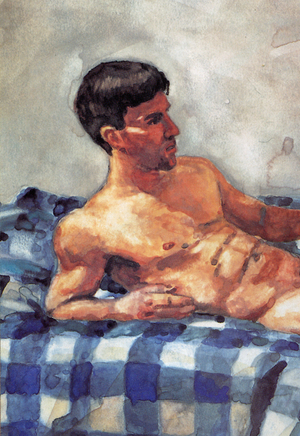 January 2015 - was grateful that a Watercolor Illustration I did for "Mandate Magazine" in the 1990's was chosen to be a part of an online exhibition for "Visual AIDS" called "I wanted Body as Form and Vice Versa", curated by Christopher Stiegler !! (The Image is a cropped version of my painting, click on the image to be linked to the N.S.F.W.)
---
November/December 2014
11/5/2014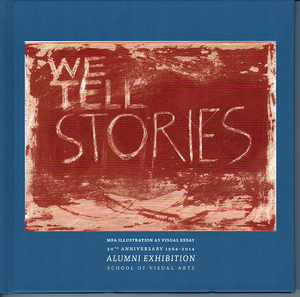 November / December 2014 - The Grad Program I went through at School of Visual Arts here in NYC is having it's mega-30-year anniversary this month - Marshall Arisman's "MFA Illustration As Visual Essay", and my work is included! The show is called "We Tell Stories", and it's on display at SVA's big Westside Chelsea Gallery space on the 15th Floor of the Starrett-Lehigh Building (601 West 26th Street in between 11th/12th Aves) from now until December 17th, 2014. It's a huge show of work by over 350 Artists, and my painting "Ricardo with Tree" is reproduced on the wall in the 4th room, and there's a hardcover book accompanying the show available at the gallery desk in which they reproduced my "Nando - Rooftop" painting on page 119. The Alumni opening was last night, (quite a fun Event!), and the opening for the public will be next week, Tues., Nov. 11th from 6-8PM. I will be there in case you can stop by & say Hi!! (Click on the Image above to be linked to SVA's website info about the Event).