NEWS / EVENT BLOG ITEMS
4/15/2015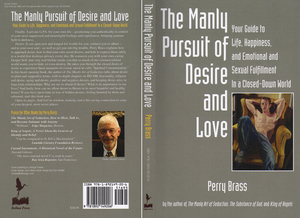 April 2015 - Great news - noted author Perry Brass was able to use my painting "Andy, Seated" as the cover image of his just-being-released new book, "The Manly Pursuit of Desire and Love" - Yay !! Perry describes the book as the deepest he's ever written, with concepts he's been working on all his life.




While the actual publication date is not until June, Brass will be signing pre-publication copies, available for sale at his table at the Rainbow Book Fair (that's www.rainbowbookfair.org ), a really fun Event in it's 7th year at the Holiday Inn on West 57th Street this Sat. April 18 from noon to 6PM. You can also click on the image above and be linked to order a pre-publication copy on Amazon. Check it out !!
---
April 2015 (Event - May 15)
4/13/2015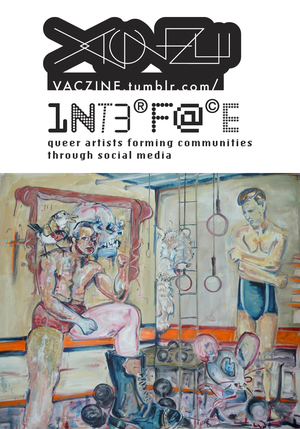 May 15, 2015 - Upcoming group show I am excited to be a part of -- will be called "Interface: Queer Artists Forming Communities Through Social Media", and it will be in the main space of Leslie + Lohman Museum of Gay and Lesbian Art! It's at 26 Wooster St, opening May 15th from 6-8PM and going through August 2nd. The show is curated by the excellent photographer Walt Cessna, and it will feature "29 Queer Artists who work in a wide variety of mediums, that have developed an artistic community through social media platforms." Walt also has the exciting Graphic-Designer-extraordinaire Frank Gargiulo -- from the Broadway-show-Advertisers "SpotCo Design" -- designing a publication called "Vaczine" to compliment the show, which should be for sale at the opening, & throughout the show's run. Click the Image above to be linked to info on the LeslieLohman site, and the show has a Tumblr blog forming here: http://www.vaczine.tumblr.com -- and it's already had a shout-out from the Huffington Post that you can read at this link (cut & paste into a browser if the link doesn't work directly for you): http://huff.to/1ahT76v

Hope to see you at the Opening on May 15th! (Image Above by Scooter LaForge: "Masters of the Universe", 2011)
---
March 2015
3/21/2015
March 27-29, 2015 - The postcards are here, & the show is only a week away! The 2015 "Dirty Little Drawings" Show at The Prince Street Project Space (part of the LeslieLohman Gay Art Museum) - 127b Prince St will open at 6PM sharp on Friday, March 27th, & the sales ($60. each, all works measure 5 1/2 by 5 1/2 inches) start immediately. That night goes until 8PM but there will be additional hours to view what's still available on Saturday & Sunday from noon to 6PM. As the card says, "Become an art collector in an instant!" Or just come say Hi & view the works by over 40 artists. I was able to do 8 images, mostly gouache watercolor - & will be posting them on the "Erotic" page of my site soon (even though only two are too hot for Facebook). Click the image above to be linked to the Wordpress blog they are maintaining for the show. See you there !
---
March 2015
3/6/2015

March 27-29, 2015 - Mark your calendars! I've submitted a few pieces to the Leslie-Lohman Erotic Drawing Studio's upcoming new "Dirty Little Drawings" show, one weekend only March 27-29, opening 3/27 at the Prince Street Project Space (127-B Prince St) of Leslie-Lohman Museum of Gay and Lesbian Art - will be a blast !
---
January 2015
1/20/2015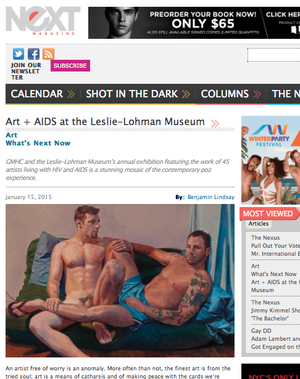 January 2015 - Always grateful to get a press mention for my artwork - my thanks goes out to Next Magazine for reproducing my Image "Rich and Seth" in relation to the GMHC "Art & AIDS: Amor y Pasion" show opening at the Leslie Lohman Museum of Gay & Lesbian Art this thurday night, 1/22/15 from 6-8pm! Click the Image to be linked to the Next Magazine site.