EVENT / NEWS BLOG ITEMS - SCROLL DOWN TO VIEW ALL
5/15/2013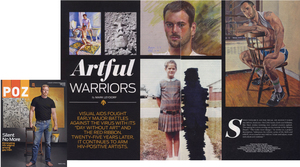 May 2013 - Cool news, I am very Grateful to writer Mark Leydorf and Editors of Poz Magazine for including a nice JPEG of my painting "Eric Seated, Chair, 2012", in the June 2013 Issue! It is included in a great article that Leydorf wrote about "Visual AIDS" celebrating their 25th year of existence. I am mentioned in the article too... here's the blurb: "Meanwhile, VA has developed it's Artist Registry, a virtual gallery that memorializes trailblazers who are gone and that nurtures a growing army of artists who are very much alive. Oils by George Towne rub shoulders with the Lethal Weapons series by Barton Lidice Benes and with fuck-yous from David Wojnarowicz". Thanks, Mark & Poz Mag! (Click on the Image to get linked to the article).
March / April 2013
3/15/2013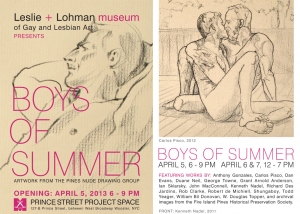 April 5, 6, & 7, 2013 - If you like either Fire Island, nude guys, or sexy art openings, then this group show of 16 artists is for you! I'll have a few artworks in this fun show of artists that have drawn with the "Pines Nude Drawing" group which has gone on the last two summers in Fire Island. Opening Fri. nite 4/5/13 from 6-9PM at the Leslie/Lohman Museum's "Prince Street Project Space" at 127-B Prince Street in Soho (near Wooster), it continues on Sat. 4/6 and Sun. 4/7 from 12-7pm. Come on down for a good time! (Click on the Image to be linked to www.pinesnudedrawing.com)
February 2013
2/22/2013
February 2013 - Two upcoming shows are "in the works"...
I'm grateful to be having yet another Solo show at Michael Mut Gallery this coming July 2013 (tentatively titled "George Towne: Painted Love"). (see: http://michaelmutgallery.com/ )
Also - I will be a part of a group show of about 13 artists that have drawn at the Fire Island Life Drawing Group called "Pines Nude Drawing" (see: http://pinesnudedrawing.com/ ), which will be displayed here in New York at the Leslie/Lohman Museum of Gay & Lesbian Art's "Annex Gallery" on Prince Street the first week of April. (see: http://leslielohman.org/index.html )
I will post more about these as the information is available - hope to see you at these two Events! - George
January 2013
1/22/2013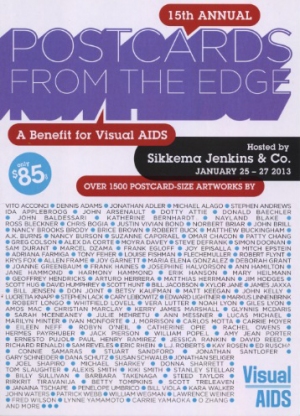 January 2013 - It's that time of year again! Every year I do a Postcard-sized oil painting for the great benefit for the fantastic organization called "Visual AIDS". It's this weekend! The Preview Party (which is $85. to get in unless you donated an artwork) is this coming Friday nite 1/25/13 at Sikkema Jenkins Gallery, 530 West 22nd St. from 6-8PM. Then the Sale of the Postcards begins Saturday at 10AM and ends Sunday at 4PM. Click the Image to be linked to the site for more details about how to come see & support this cool Event!
December 2012
12/18/2012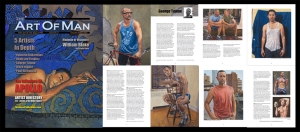 December 2012 - A great way to end the year -- my artwork has been featured in an 8-page spread / Feature, in the 11th Issue of "The Art of Man" !! It's a fantastic, quarterly, full-color journal of figurative arts, selling for only $15.95 at www.theartofman.net - sales through Createspace, an Amazon company. It has an Interview with me, and they reproduced 7 of my best paintings from the last 2 years! Click the Image to be linked to their site.