NEWS / EVENT BLOG ITEMS - SCROLL DOWN TO VIEW ALL
6/5/2015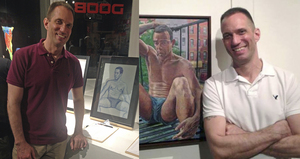 June 2015 - It's been a fun month getting to be a part of Events at The Leslie + Lohman Museum of Gay and Lesbian Art - this is a pic of me at the "Queer Art Interface" Opening two weeks ago with my painting "Nando - Fire Escape" and at the "3rd Annual Founders Day Benefit - Honoring Founder Charles Leslie" last night with the Drawing I donated to the Silent Auction - "Deon, Seated - Black Shorts" (thanks to those who bid on it!). The Interface show is the summer show - open 7 days a week until August 2nd - go check it out before it closes! (26 Wooster St just above Canal St - click on the Photo to be linked to info about the show).
---
May / June 2015
5/28/2015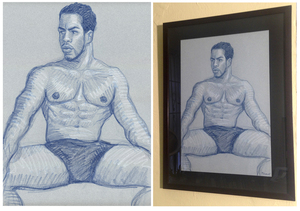 May / June 2015 - I've donated a framed Life Drawing to the Paddle 8 Online and In-Person Silent Auction to Benefit the "Founder's Day Event" at the Leslie Lohman Museum of Gay & Lesbian Art, honoring Charles Leslie! It's called "Deon, Seated - Black Shorts", it's in a nice dark frame & matte (that's a pic of it on my wall next to the image scan). It's 23 by 16" in the frame, Colored Pencil on Toned Paper. The bidding starts at $150. for the Drawing and you can log in to the Online Auction and Bid now, (click the image to be linked to the Paddle 8 site) or wait to go see it and possibly bid in person at the Event, Thursday, June 4th at the Museum on 26 Wooster Street (6:30-9PM, tickets for the Event range from $125. to $1000. for this Benefit, & a new glossy Hardcover book about Charles & his collection called The Art of Looking, published by Bruno Gmunder will be available). Check it out !
---
May / June 2015
5/28/2015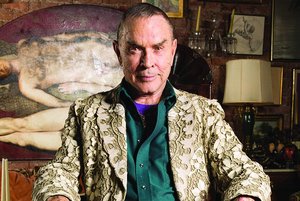 May / June 2015 - So cool to see this article about Charles Leslie, founder of Leslie-Lohman Museum of Gay and Lesbian Art in Next Magazine ! Without his foresight & generosity to struggling artists, there would be no Gay Museum in NYC. He's being honored in a fun Event there next week (in which I'll have a Drawing in a Paddle8 Auction), come/support the Museum if you can. (Click the photo to be linked to the article in Next Magazine).
---
May 2015
5/6/2015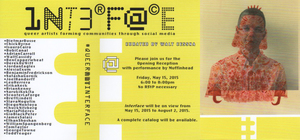 May 15, 2015 - The Invitations are here, the show is next week! As I mentioned two posts ago, the "Interface" show, curated by Walt Cessna opens at Leslie Lohman Museum of Lesbian & Gay Art on May 15 and runs through August 2nd, 2015. I'm excited to be showing my new painting "Nando - Fire Escape" in this edgy/fun group show. The Museum is at 26 Wooster St., NYC - click the image to be linked to their website. The opening on Friday the 15th from 6-8PM is open to the public & is scheduled to have some cool performance art happening - come & check it out! (Painted-Photo Image above by Dietmar Busse.)
---
April 2015
4/15/2015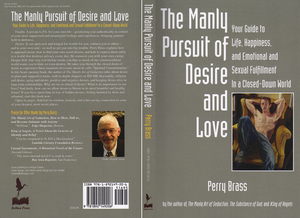 April 2015 - Great news - noted author Perry Brass was able to use my painting "Andy, Seated" as the cover image of his just-being-released new book, "The Manly Pursuit of Desire and Love" - Yay !! Perry describes the book as the deepest he's ever written, with concepts he's been working on all his life.




While the actual publication date is not until June, Brass will be signing pre-publication copies, available for sale at his table at the Rainbow Book Fair (that's www.rainbowbookfair.org ), a really fun Event in it's 7th year at the Holiday Inn on West 57th Street this Sat. April 18 from noon to 6PM. You can also click on the image above and be linked to order a pre-publication copy on Amazon. Check it out !!