NEWS / EVENT BLOG ITEMS - SCROLL DOWN TO VIEW ALL
2/9/2014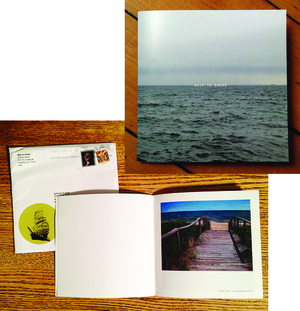 January, 2014 - I'm grateful to be a part of a beautiful book project by artist/photographer/designer Charlie Welch called "Ship To Shore"! Welch says "I asked friends, who also asked friends, to submit imagery about the sea and left it open for interpretation". My 2012 painting "Fire Island Boardwalk, Ocean" is included. Also included are such artists as Meer Musa, Rick Herron, Aaron Krach, Tom Hill, John Paradiso and several others. Click on the Image to be linked to a Tumblr Blog with some of the images, but better yet, check out http://www.charliewelch.com/shiptoshore.html to be linked to his Etsy site to buy it for $10. !
January 2014
2/4/2014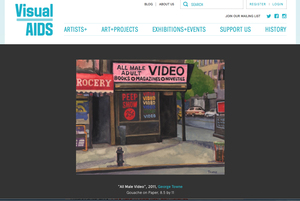 February 2014 - My gouache painting, "All Male Video" from 2011 was just chosen to be a part of this month's Visual AIDS web gallery, "I am my own Landscape", curated by Ivan Acebo-Choy. The show includes other artists such as David Wojnarowicz, Felix Gonzalez-Torres and Keith Haring. Acebo-Choy is completing his Doctorate in Art History at the University of Havana, Cuba. Click on the Image above to be linked to the show!
January 2014
1/22/2014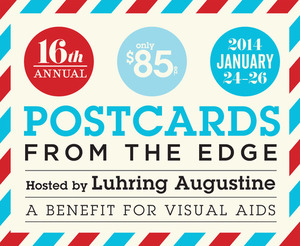 January 24-26, 2014 - Hey folks - once again I am participating in the fantastic Event "Postcards from the Edge", the annual benefit exhibition & art sale for "Visual AIDS". I did another 4" by 6" (postcard-sized) painting that will go on display at the 'blue-chip' Luhring Augustine Gallery in West Chelsea this Friday at it's Preview Party, and then sales of the Postcards happen on Saturday & Sunday. Click the Invitation Image above to be linked to Visual AIDS's site for more info about the event - come and support it if you can!
January 2014
1/17/2014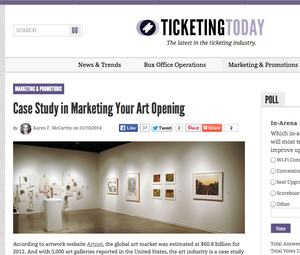 January 16, 2014 - I got an unexpected Press mention, "Ticketing Today"'s Karen F. McCarthy asked me about how artists use Social Media to promote their art, & of course I mentioned Facebook... here's the part she mentioned me:
"Artist George Towne updates his website and news and events blog for every upcoming show, and keeps images of his art in Facebook newsfeeds. His recent solo exhibition at the Michael Mut Project Space in New York generated such a large attendance in a small gallery that he described it as "a whirlwind evening … very fun, exciting and validating."

Check out the whole article by clicking on the photo & you should be linked to it - its about the 7th paragraph down.
January 2014
1/5/2014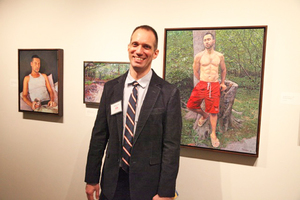 January 2014 - Happy New Years everyone! Today (Jan. 5th) is the last day to go see the group show I'm in... it's called "Art & AIDS: Perceptions Of Life", the GMHC Art Show - at the Leslie Lohman Museum of Gay & Lesbian Art... 26 Wooster Street (just above Canal St.), NYC - open today from 12PM-6PM. It's a big group show with 48 artists, though somehow it doesn't feel too crowded. I am grateful to be represented well, with 4 paintings I'm proud of in it! Click the photo to be linked to Leslie Lohman's site - Event page info.