NEWS / EVENT BLOG ITEMS - SCROLL DOWN TO VIEW ALL
11/5/2014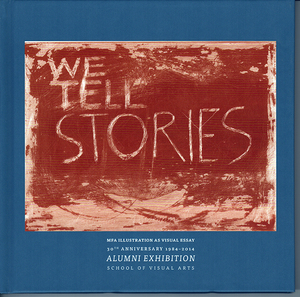 November / December 2014 - The Grad Program I went through at School of Visual Arts here in NYC is having it's mega-30-year anniversary this month - Marshall Arisman's "MFA Illustration As Visual Essay", and my work is included! The show is called "We Tell Stories", and it's on display at SVA's big Westside Chelsea Gallery space on the 15th Floor of the Starrett-Lehigh Building (601 West 26th Street in between 11th/12th Aves) from now until December 17th, 2014. It's a huge show of work by over 350 Artists, and my painting "Ricardo with Tree" is reproduced on the wall in the 4th room, and there's a hardcover book accompanying the show available at the gallery desk in which they reproduced my "Nando - Rooftop" painting on page 119. The Alumni opening was last night, (quite a fun Event!), and the opening for the public will be next week, Tues., Nov. 11th from 6-8PM. I will be there in case you can stop by & say Hi!! (Click on the Image above to be linked to SVA's website info about the Event).
---
October 2014
10/1/2014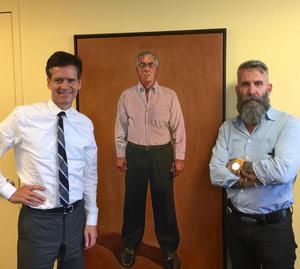 October 2014 - Very pleased to find out that my 2002 painting of Barney Frank, which was donated to the Leslie Lohman Museum of Gay and Lesbian Art by Collector Earl Carlile, is now on traveling loan to the Manhattan Office of NY State Senator Brad Hoylman !! Pictured are Hoylman and the Lohman Museum Director Hunter O'Hanian. Many thanks to all that made this happen !!
---
September 2014
9/10/2014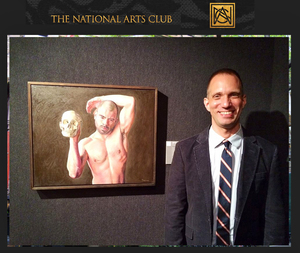 September 2014 - I have a painting featured in another group show at The National Arts Club on Gramercy Park again (the second show there this year)! This one is called "Meeting Mythology: An Eternal Source", curated by Robert Yahner. I am included among 4 Contemporary Artists in the show who have Mythological themes in their work (my painting "Mike With Skull" from 2011 can be seen as a re-telling of the Hades Myth). The rest of the art from this show is from the Club's impressive collection (there is even a Picasso Drawing of a Satyr - yep, I'm in a show with Picasso! LOL). The show runs til Sept 29th, 2014, and the National Arts Club is at 15 Gramercy Park South (a.k.a. West 20th St in between Park Ave & Irving Place. It's open to the public every Monday through Friday from 10AM-5PM and the show is in the lower level gallery. Come see it if you can! (Click the image to be linked to N.A.C.'s website & Gallery calendar).
---
July 2014
7/11/2014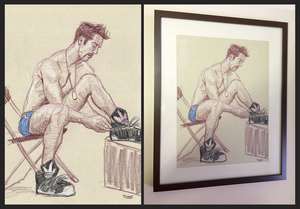 July 2014 - This is my donation to next week's Housing Works' Soho Thrift Shop's "Art for Action Gallery Night", organized by Scooter LaForge and Johnny Rozsa - a life drawing of Dan Paul putting on his sneakers :) The Event is Thursday, July 17th from 6-8PM at 130 Crosby Street just below Houston, and all work is for sale to benefit Housing Works. This is the piece, and a view of it in the brown frame I have it in - come by Thursday to see it, as well as all the other wonderful artists on display! Click the image to be linked to the Housing Works' site's listing of the Event
---
July 2014
7/3/2014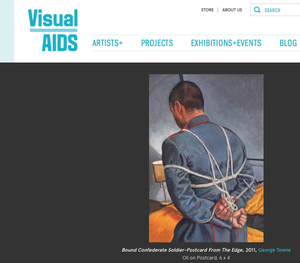 July 2014 - My 2011 painting "Bound Confederate Soldier" was just curated into a Visual AIDS online exhibition called "Secretly, Frequently Secretly, Frequently (Cowboy Drag)" by Canadian curator Anthony Easton! He chose a really fun selection of images from the VA Archives and wrote a great essay, click on the image to be linked to it :)