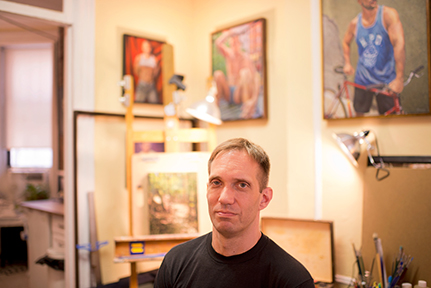 photo by Jason Boeckli - http://www.jasonboeckli.com
Bio

George Towne is an artist / painter / designer, based in New York City's East Village neighborhood. His imagery is concerned with gay male experience as well as lhe beauty of landscape (urban and rural) and its connections to gay community (i.e. historical cruising grounds, or early gay community spaces).
Born in Pennsylvania and raised in Port Jervis, New York, Towne realized he loved drawing as a young man. After his high school art teacher bought him his first set of oil paints, he started to become more serious about art making.
Towne attended the School of Visual Arts to study painting and find like-minded community. His artwork has been featured in solo exhibitions at venues such as the Michael Mut Project Space in New York City, The Barbara Ann Levy Gallery, in Cherry Grove, on Fire Island, and the Delaware Valley Arts Alliance, in Narrowsburg, New York. His work has been highlighted in several group shows, including recent ones in both spaces (Wooster St. and Prince St.) of the Leslie + Lohman Museum of Gay and Lesbian Art, at the Forbes Gallery on 5th Avenue, and the National Arts Club on Gramercy Park.
His work has been reproduced and discussed in publications such as American Artist Magazine, The Art of Man, Art & Understanding (A&U) Magazine, Time Out New York, and Metrosource. Book compilations such as Bruno Gmunder's Stripped, Uncensored, Big Love and Raunch, as well as Schiffer Publication's 100 Artists of the Male Figure, and Firehouse Studio Publication's Powerfully Beautiful all include his work. He has been known to attend some of NYC's gay men's drawing groups, including "The Leslie/Lohman Erotic Drawing Studio".
George has settled in New York's East Village neighborhood, and has continued
with his love of painting and depicting male images as well as his love of
landscape/citiscape and context. By day, he also designs book interiors at Penguin Random House.