NEWS / EVENT BLOG ITEMS - Scroll down to view all
5/2/2020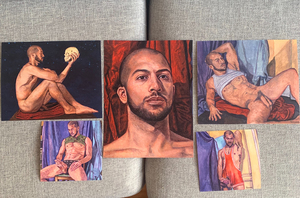 Spring 2020 - Happy Spring, everyone! I hope everyone is doing well despite the obvious tough times.

I am pleased to announce I have a special deal worked out with one of my favorite models from the LeslieLohman Erotic Drawing group named Gabriel (his burlesque performer name: Sloppi Chulo) to sell small prints of the 5 best paintings I've done of him in the last few years.

They are good quality color prints, quite framable - prices range from $15. - $25. with free shipping. D.M. him for details through his Instagram account: @sloppi_chulo (and definitely check out his "Only Fans" account - only $10. a month at onlyfans.com/sloppi_chulo )!
---
January 2020
12/31/2019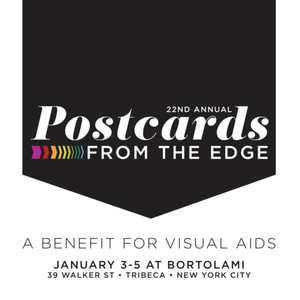 January 3-5, 2020 - Happy New Year, everyone! As with most years, I am participating in this year's "Postcards From The Edge" Benefit for Visual AIDS. This year it will be held at Bortolami Gallery down in Tribeca. I will be at the Artist Preview Party on Friday from 6-8pm, come say Hi & see if you can guess which artwork is mine! Admission for the Friday nite party is $100. unless you are a participating artist, money raised goes towards Visual AIDS programming... for a full explanation of details click the image to be linked to the Visual AIDS site. Hope to see you there!
---
November - December 2019
11/26/2019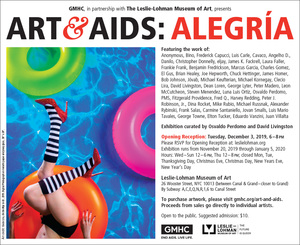 November/December 2019 - As far as exhibitions, I'm happy to be finishing out the year in this cool group show called Art & AIDS: Alegria at the main LeslieLohman Museum space down on Wooster/Grand street! The curators have chosen three portaits I've done recently... it's a show of artists involved with GMHC, and although it's about HIV & AIDS, it focuses on the aspect of "celebrating life" (Alegria). The show is already up and will be on display until Jan. 5, 2020. The opening reception will be next tuesday, 12/3, from 6-8, please come! Click on the image for further info.
---
Fall 2019
11/18/2019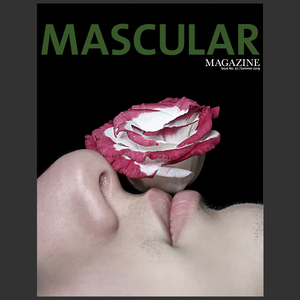 Fall 2019 - some cool news, I have 5 spreads of work in an art jounal / publication called "Mascular Magazine"! It's latest issue is called "Flora" and it features paintings of mine that feature mostly "Outdoor settings (and a Peony)". You can download the whole issue for free at www.mascularmagazine.com (also, click the image to be linked to the site)!
---
September 2019
8/15/2019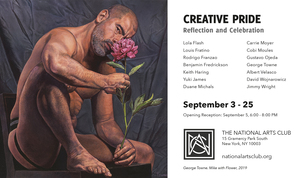 September 2019: Very excited about this upcoming group show at the National Arts Club, opening reception slated for Thurs., Sept. 5th, from 6-8pm! It's called "Creative Pride: Reflection and Celebration", curated by Robert Yahner. Turns out they were able to use my painting, "Mike with Flower" for the invite image !

From the press release: "In honor of the 50th Anniversary of the 1969 Stonewall Riots that sparked the Gay Liberation Movement, The National Arts Club is proud to present Creative Pride. Celebrating the vision and talent of the LGBTQ Community, this special exhibition will include works by Keith Haring, Louis Fratino, Duane Michals, Jimmy Wright, Carrie Moyer, George Towne, Yuki James and others. Tribute will also be paid to National Arts Club Medal of Honor recipients Tennessee Williams, Allen Ginsberg and Leonard Bernstein for their landmark contributions to American culture."

Also included are some other faves of mine like Benjamin Fredrickson, Lola Flash, Cobi Moules, Albert Velasco, and others, even including work by the late, great David Wojnarowicz. The show will be up until 9/25 at 15 Gramercy Park South - please come check it out! (Click the image to link to their site).