NEWS / EVENT BLOG ITEMS - SCROLL DOWN TO VIEW ALL
4/13/2021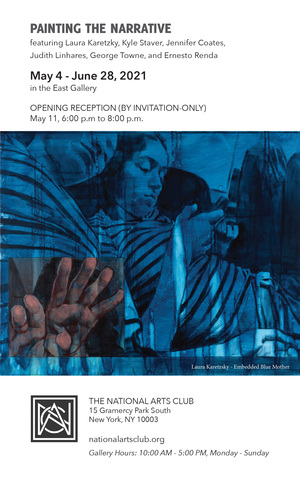 Spring / Summer 2021: I will be in an upcoming group exhibition at The National Arts Club called "Painting the Narrative", curated by Dee Shapiro. She's chosen three of my paintings, one from 2008, another from 2011, and another from 2015 to be a part of a six-person show that examines contemporary ideas about Narrative Painting in the newly renovated East Gallery of the Club.

The show also features the work of Laura Karetzky, Kyle Staver, Jennifer Coates, Judith Linhares, and Ernesto Renda. It will be on display from May 4th through June 28, and gallery hours are 10am-5pm, Monday through Saturday at 15 Gramercy Park South.

Click on the image to be linked to the National Arts Club's Exhibitions page to read about the social distancing guidelines and call-ahead reservation options, and please, come check it out!
---
January 2021
1/2/2021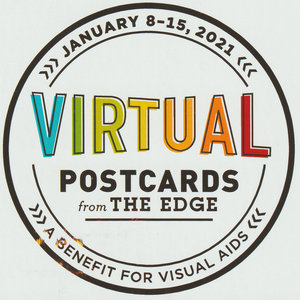 January 2021: Happy New Year everyone!! I will again have an artwork in this year's "Postcards From The Edge" show, hosted by VISUAL AIDS... this year of course they are having it be a "Virtual" Event, due to the Coronavirus and the need for social distancing. But click on the image to be linked to the VA site, and read how you can view all artworks starting Friday, 1/8/21 at the V.I.P. Preview from 6-10PM, and then sales will start Saturday 1/9 and go through 1/15, first-come-first served.
---
Fall 2020
8/18/2020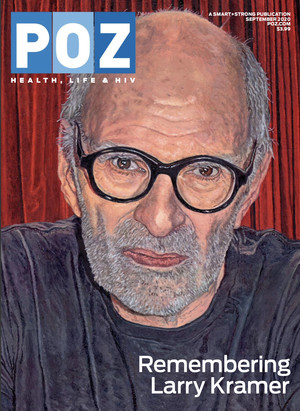 Fall 2020 - The September issue of Poz Magazine pays tribute to the late author and HIV activist Larry Kramer, and I'm very pleased that they were able to use my painting of Larry on the front cover. There is also a mention, with photo of me & Larry, from the GMHC-sponsored group art show at The Leslie Lohman Museum in 2017 where I was able to finally let him see it in person (described in Oriol Gutierrez's column "The Last Song", that you can see/read if you click on the above photo). Huge thanks to Jennifer Morton & all the cool folks at Poz. Check it out!
---
Spring 2020
5/2/2020
Spring 2020 - Happy Spring, everyone! I hope everyone is doing well despite the obvious tough times.

I am pleased to announce I have a special deal worked out with one of my favorite models from the LeslieLohman Erotic Drawing group named Gabriel (his burlesque performer name: Sloppi Chulo) to sell small prints of the 5 best paintings I've done of him in the last few years.

They are good quality color prints, quite framable - prices range from $15. - $25. with free shipping. D.M. him for details through his Instagram account: @sloppi_chulo (and definitely check out his "Only Fans" account - only $10. a month at onlyfans.com/sloppi_chulo )!
---
January 2020
12/31/2019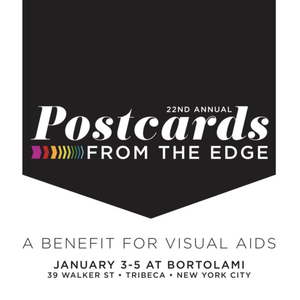 January 3-5, 2020 - Happy New Year, everyone! As with most years, I am participating in this year's "Postcards From The Edge" Benefit for Visual AIDS. This year it will be held at Bortolami Gallery down in Tribeca. I will be at the Artist Preview Party on Friday from 6-8pm, come say Hi & see if you can guess which artwork is mine! Admission for the Friday nite party is $100. unless you are a participating artist, money raised goes towards Visual AIDS programming... for a full explanation of details click the image to be linked to the Visual AIDS site. Hope to see you there!