NEWS / EVENT BLOG ITEMS - Scroll down to view all
5/2/2020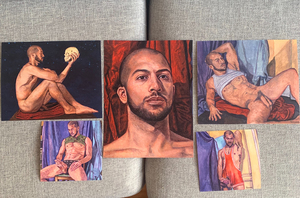 Spring 2020 - Happy Spring, everyone! I hope everyone is doing well despite the obvious tough times.

I am pleased to announce I have a special deal worked out with one of my favorite models from the LeslieLohman Erotic Drawing group named Gabriel (his burlesque performer name: Sloppi Chulo) to sell small prints of the 5 best paintings I've done of him in the last few years.

They are good quality color prints, quite framable - prices range from $15. - $25. with free shipping. D.M. him for details through his Instagram account: @sloppi_chulo (and definitely check out his "Only Fans" account - only $10. a month at onlyfans.com/sloppi_chulo )!