NEWS / EVENT BLOG ITEMS - SCROLL DOWN TO VIEW ALL
3/19/2017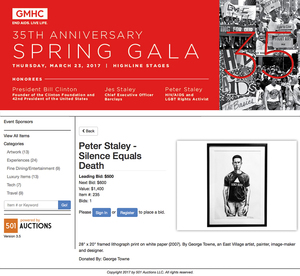 March 2017 - I was able to donate a Lithograph Print I completed of activist Peter Staley that is/will be a part of the "GMHC Spring Gala Luxury Auction', which is online now and culminates at the exciting event this Thursday at Highline Stages, 441 West 14th, this Thursday, March 23rd at 6:30PM. There are other works of art in the Auction, including a Tom Otterness sculpture and a Shepard Fairey print, all benefitting GMHC's programs and services. Peter will be honored for his strident activism at the event, as well as his brother, Jes Staley (the Barclay's CEO), along with special guest Bill Clinton (!). If you're able to come to the special dinner at 6:30, or to the Dance after-party at 10pm, it would be great to see you at either event. To find out more info or to place an early bid on the print, click on the image to be linked to the GMHC Gala site. Hope to see you there!
---
March through May, 2017
3/2/2017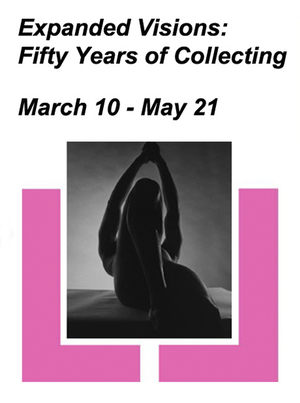 March 10 - May 2017 - I'm very pleased to announce that I will have a portrait painting in the highly anticipated re-opening of the Leslie-Lohman Museum next week! For months the Museum has been closed in preparation for it's expansion... the total exhibition space will be doubling in size in it's ground floor home on 26 Wooster St (on the corner of Grand St., one block above Canal St. in Soho). The group show is called "Expanded Visions: 50 years of Collecting", and it will feature over 250 works on view. The public opening will be Friday, March 10th from 6-8PM, and the Museum will be open 7 days a week until May 21st. Click on the Image (photo by the legendary Hollywood photographer Horst P. Horst) to be linked to the Museum's webpage. Please stop by if you can!!
---
January 2017
1/14/2017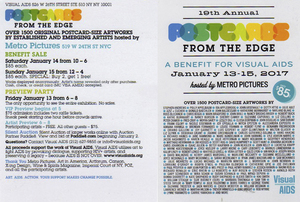 January 2017 - Happy that I am participating once again in this year's "Postcards From The Edge" Show, the huge exhibition / art sale / benefit & kick-ass party in a big Chelsea gallery, which is being held this year at ""Metro Pictures" - 519 West 24th Street on Friday, Saturday, & Sunday (Jan. 13th-15th)! I scanned the front and back of the invite here, but also you can click the image to be linked for more info on the Visual AIDS site. It's a great event & a terrific experience !!
---
January 2017
1/5/2017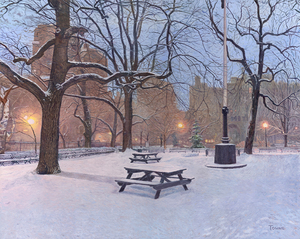 Happy New Years - 2017, everyone! I'm attaching my new landscape painting, "Stuyvesant Square Park - Winter" which debuted in a show called "The Warmth of Winter" at The National Arts Club on Gramercy Park a few days before the 2016 Holidays. I'm grateful to say the piece sold, and a portion of the proceeds will go towards the Club's "Will Barnet Student Show and Prizes" that will happen next April. You can catch it on display until Friday, January 6th, the gallery is open 9-5PM (click the image to be linked to the NAC's exhibition page and info).
---
December 2016 - January 2017
12/18/2016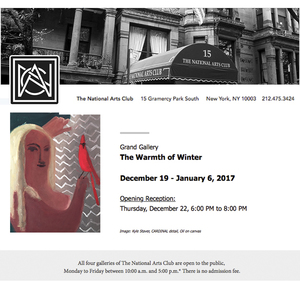 December 22nd, 2016 - January 6th, 2017 - A nice way for me to end the year will be inclusion in this group show at The National Arts Club called "The Warmth of Winter", which highlights winter-themed works from over 50 artists. I was able to do a new oil painting / urban landscape that made it in the show - please come and check it out at the opening on Thursday the 22nd from 6-8pm! The Club is at 15 Gramercy Park South between Park Avenue and Irving Place, (click on the image to be linked to their website).