NEWS / EVENT BLOG ITEMS - SCROLL DOWN TO VIEW ALL
11/8/2017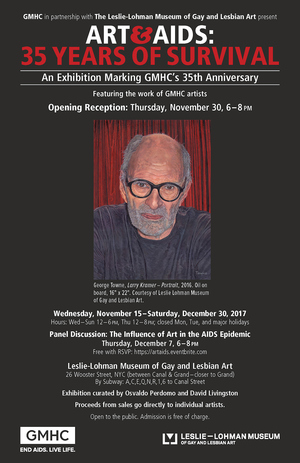 Nov / Dec 2017 - Very pleased to say that GMHC has selected my portrait of Larry Kramer to be on the invitation to the exhibition of GMHC artists: "ART & AIDS: 35 YEARS OF SURVIVAL", to be held soon at the Leslie–Lohman Museum of Gay and Lesbian Art! Although the opening reception will not be for several weeks (Thu, Nov 30th, 2017, from 6-8PM); the show will be on view from Nov 15 to December 30th. Proud to be able to honor Larry, one of the founders of GMHC & of ACT-UP; still survibing and still a powerful community voice!

It will be a large group show with over 50 artists; and also selected I will have a Fire Island Ocean Landscape oil painting, and the watercolor used for the GMHC Holiday card (of a snowy Stuyvesant Square Park) on display. Save the dates, and please come see it if you can!

The Museum is at 26 Wooster St (just above Canal St in Soho, click on the image to be linked to their site), hours Wed-Sun 12-6, Thu 12-8PM, closed Mon, Tue, & major Holidays.
---
November 2017
11/1/2017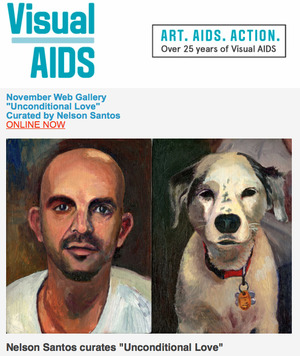 A double-portrait I did several years ago was just selected for an online "web gallery"... I only very rarely do paintings of pets/animals, but I had done a small painting of Visual AIDS's past director Nelson Santos and his dog at the time named Sparky for a cool art show he was curating called "The Sparky Project" involving many artists. Just this month, Nelson curated this online web gallery called "Unconditional Love" about people and their pets/animals; and included the image!! Check it out & read his touching curatorial essay here: (click the image to be taken to the page on the Visual AIDS website - www.visualaids.org )
---
July 2017
7/4/2017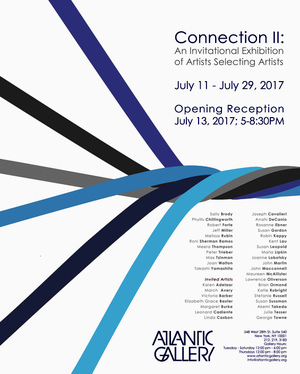 July 13 - 29, 2017 - Pleased to announce that I will have two small works in a two-week group show called "Connections II" in West Chelsea's "Atlantic Gallery"! It's a two week exhibit including artists such as Jeff Miller, Joseph Cavaliere, John MacConnell, Kent Lau and many others. I'll have a small landscape of the Meatrack on display, as well as a portrait of my friend, the renowned artist and illustrator Robert W. Richards! The gallery is at 548 West 28th St., Suite 540. The opening is Thursday, July 13 from 6-8:30, please come if you can!
---
Late Spring 2017
6/6/2017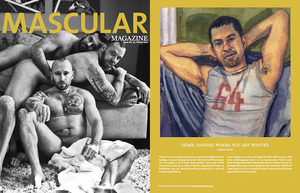 Late Spring 2017 - I was thrilled to hear the news that I was among those selected to be in the most recent issue of Britain's "MASCULAR" Magazine! This issue was guest-curated by renowned photographer and recent Chair of the FIT Photo department, Ron Amato, who decided to use the theme of "Home".

Those selected were gay men who were asked to submit artwork that reminded them of their personal concept of Home (i.e. - memories, actual family vs. chosen family, actual place vs. concept of a place, etc.). I submitted & trid to choose figurative images where the model had posed in either my apartment or their own, and I'm happy to say that Ron and publisher Vincent Keith chose 13 paintings in four spreads, along with a few sentences I wrote, that start on page 60 of this fine issue.

It's a digital magazine (click on the image to be linked to the site), which may take a few seconds to download... you should also be able to right-click and save it as a free PDF to your computer, depending on your device.

The issue includes several artists whose work I know & love from either NYC or just knowing from Facebook, (& several more I'm just hearing about), such as: Dan Romer, Mike Harwood, Joe LaMattina, Bil Donovan, John Thomas Paradiso, Krys Fox, Kenny Yip, and of course Ron Amato and Vincent Keith.

Those guys who modeled for me include Richard Renaldi, Gregory Nalbone, Gustavo Guzman, Andy Stone, Jeffrey Gardner, Adriano Dias DeCarvalho and Eric Rose VanDoorne.

Check it out at: www.mascularmagazine.com
---
Spring 2017
4/23/2017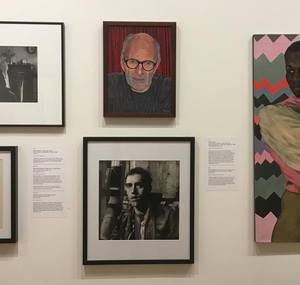 April - May 2017, the show "Expanded Visions" at Leslie Lohman Museum continues unti May 21st - please check it out if you can! My painting of Larry Kramer is well curated with other LGBT heros in a section including a Peter Hujar photo if the late David Wojnarowicz, and there's a photo by one of the first female photographers ever taken seriously as an artist named Berenice Abbott right next to it. For the show, the museum has DOUBLED in size and is showing point-on work from the permanent collection. The rest of the exhibition has scores of artists from Albrect Durer in the 1400's - all the way up til present day - don't miss it! Click the link to go t0 the Museum's website.